Calculations for ship-to-shore crane marine transportation
A Nelcon 52510 ship-to-shore crane (height 70 m, weight 750 ton) had to be transported from ECT Rotterdam to TIS Terminal ("Pivdennyy" seaport). The crane overcame this distance in 20 days.
The client – Kleiss Cranes Consultants – requested us to analyze the optimal conditions for the crane transportation (including Bosfor bridge passing) and docking processes with consideration to 3-axial wind and waves acceleration.
The engineering team conducted all the necessary calculations to choose the optimal ship craft from four options from different vendors. To stiffen the crane through transportation, four brace types were identified by engineers with consideration to all forces. The crane stiffness and natural frequencies were analyzed, and everything depended on the mass center for the ship and the crane. We were fortunate to complete the calculations in time, so the project is realized during the unique time corridor acceptable for transporting such a huge object.
The 750-ton crane transshipping was conducted with the help of SPMT (self-propelled modular transporter) supports, each capable of 350 ton bearing. SPMT-supports were driven to the crane and with the help of a hydraulic system, the crane was loaded to the ship.
It was necessary to calculate the load applied to the ship so that there will be no concaves under the hardpoints after the mounting at the watercraft.
Special mention should be made of the Bosfor Bridge passing. The boom was removed from the crane and still, the distance between the bridge's arch and the crane's highest point was only 4 meters. The project was further complicated by the up to x6 waves acceleration.
SDC Verifier analysis results and graphical output are included in our calculation report.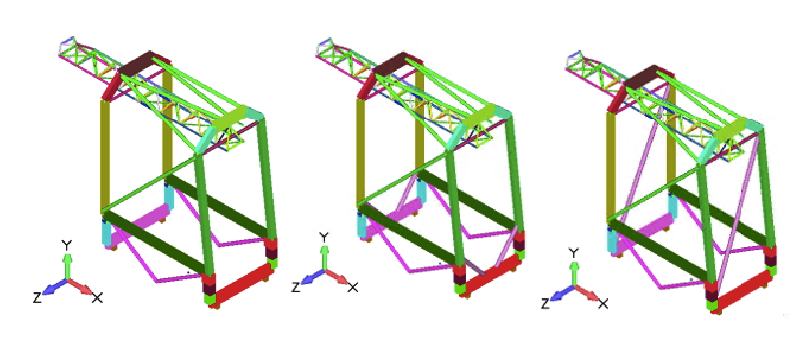 We used various functions within SDC Verifier to check all the necessary parameters according to API RP 2A, ISO 19902, Norsok N004, DIN 15018, FEM 1.001 and Eurocode3 standards.