Report
Report – automatically generated document that can contain model description and calculation results (plots, tables). It is possible to create a report using Report Wizard and Report Designer.
Report Wizard - gives a possibility to build the report using step by step wizard. It is possible to generate a word report from the wizard or to continue with the report in the designer.
Report Designer - an advanced tool to create reports. It gives full control over the report structure and offers a rich variety of instruments for customization.
The big advantage of the designer is that it is possible to generate a part of a report, change some settings and regenerate only the required parts.
Report Templates
Empty

– the first page and preface are included only;

Model Setup

– the description of a model data (materials, properties, boundary conditions, components, etc.) with plots;

Results

– a displacement extreme tables, stress and displacement plots are included for all loads;

Full

– extreme tables and plots are included for stress and displacement. All tables/plots created in a project are also included.
Report Settings
Press
to define the report setting: table content, default view and generation settings.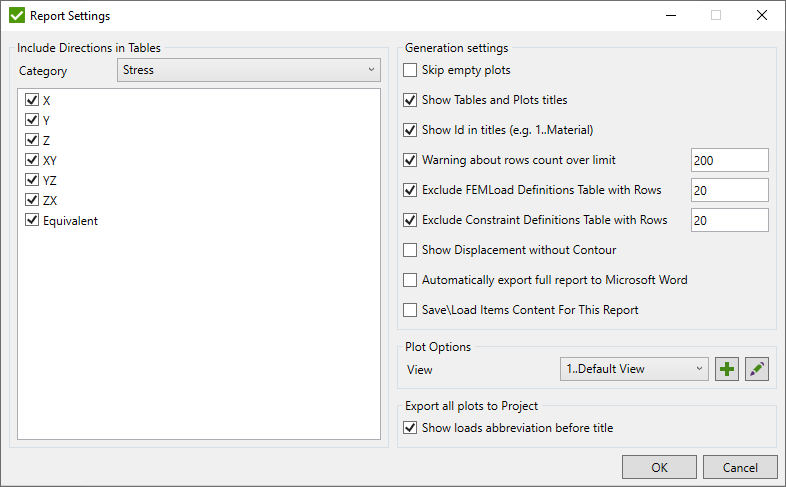 It's possible to define what directions should be included for the different result categories. For example, a plate model is checked and it is necessary to display only the Plate Stresses: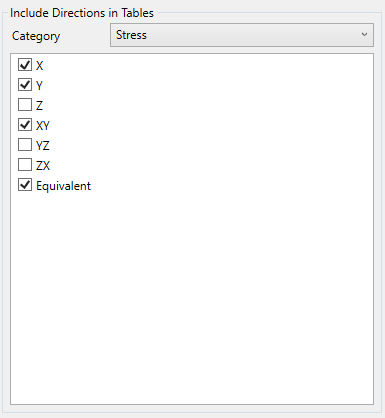 Skip Empty Plots – the plot is not displayed if all elements of plots are beyond the limits (all elements are not visible).
Skip Table and Plot Titles – the titles before the plot or table are skipped.
Show Id in titles – ID of the entities are displayed before title for (e.g. 1..Material 1).
Warning about rows count over limit – the tables with rows count less than the defined will not be generated. A warning message will be displayed instead.
Show displacement without contour - displays only a model deformation without the colors for Displacement plots.
Automatically export a full report to Microsoft Word - when the report generation is completed export to Word.
View is used for model plots.
Show loads abbreviation before title - displays loads in format IL1..Individual Load, LS2..Load Set 2).