SDC Verifier 5.1.1
Improvements:
Now working with  Ansys 19.2 and Femap 12
Fatigue design of offshore steel structures, DNV-RP-C203 2016 (beta);
Wave - wave load applying algorithm is improved to handle different mesh sizes; Import/Export wave settings to file; total force/moment calculated along wave direction; fixed wave periodicity (Femap);
Overall mass for properties and materials overview;

Add beam members by selection to components extreme table;

Multiselect of nodes in Edit Member (in all directions);

In new project wizard Job of jobs is added if project contains 2 or more analysis;
Bug fixes:
AISC360-10: kv factor calculation is updated for a minor axis;
Eurocode3: torsional check UF calculation is updated;
Weld Finder and Panel Finder: recognition issue due to midside nodes;
Reading results of Line Element forces and GP Forces for models with beam and plates elements (Ansys);
Save/load project file on the network share;
Sub-steps are automatically imported as individual loads (Ansys);
Import results – copy/paste added, range calculation is updated;
Contour plot is replaced with criteria plot in v19 and v19.1 (Ansys);
New project wizard – results are not imported if user click Finish on the first step (Ansys):
Preview method is updated – real shapes for beams are shown (Ansys);
Issues with user title for tables/plots;
Import view settings - the legend position (Femap, v12);
View autoscale issue;
Dimensions for cross sections were cut and not rounded;
Fatigue checks were recalculated due to the wrong check if the characteristic is up to date;
Contour plots are shown always with deformation, for vectors with Id < 4 (Femap);
Fem Load in the report: loads magnitudes on inactive steps are skipped;
SDC Verifier 5.1
New Features:
AISC ASD 1989 9th edition, July 1989;
API RP 2A-WSD 21st edition, October 2007;
ASME VIII, Div.2 - 5.5.2 Screening Criteria for Fatigue Analysis (beta);
Eurocode3 weld strength (Section 4, EN1993-1-8):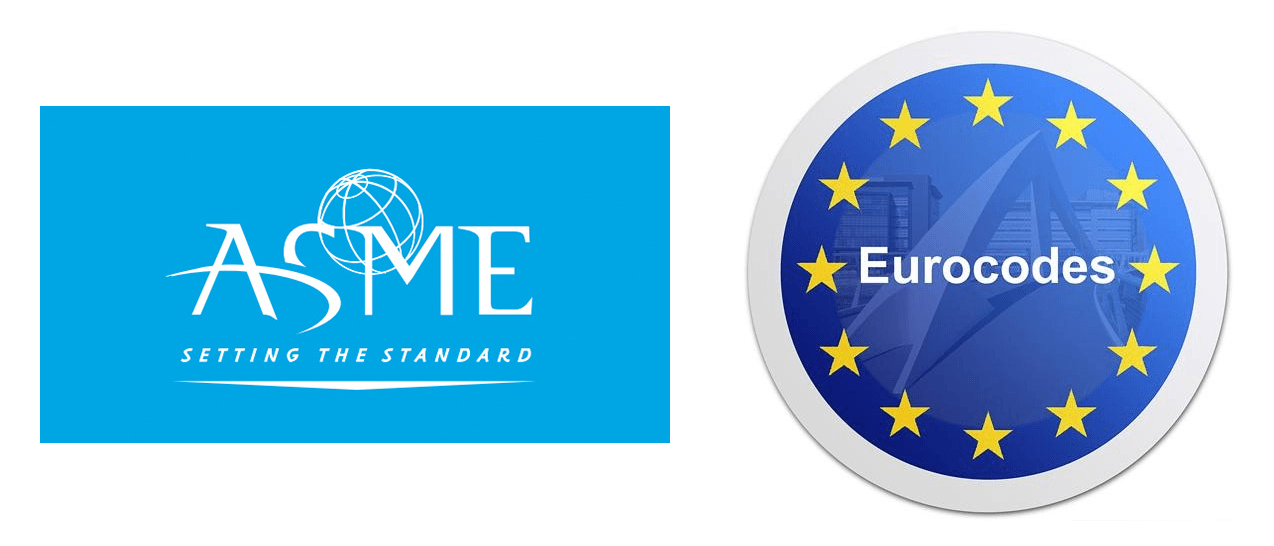 Waves Load (beta, only Femap):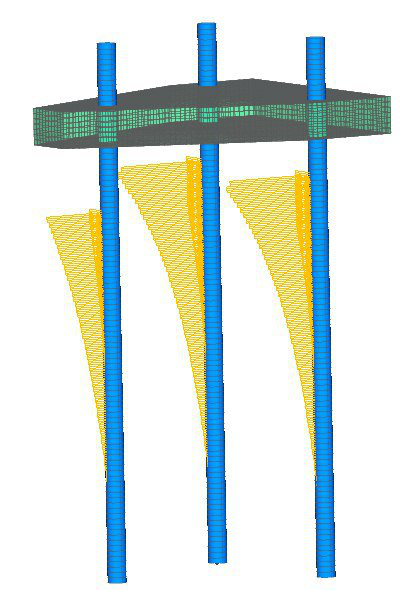 Project Wizard - a wizard to quick start/setup the project: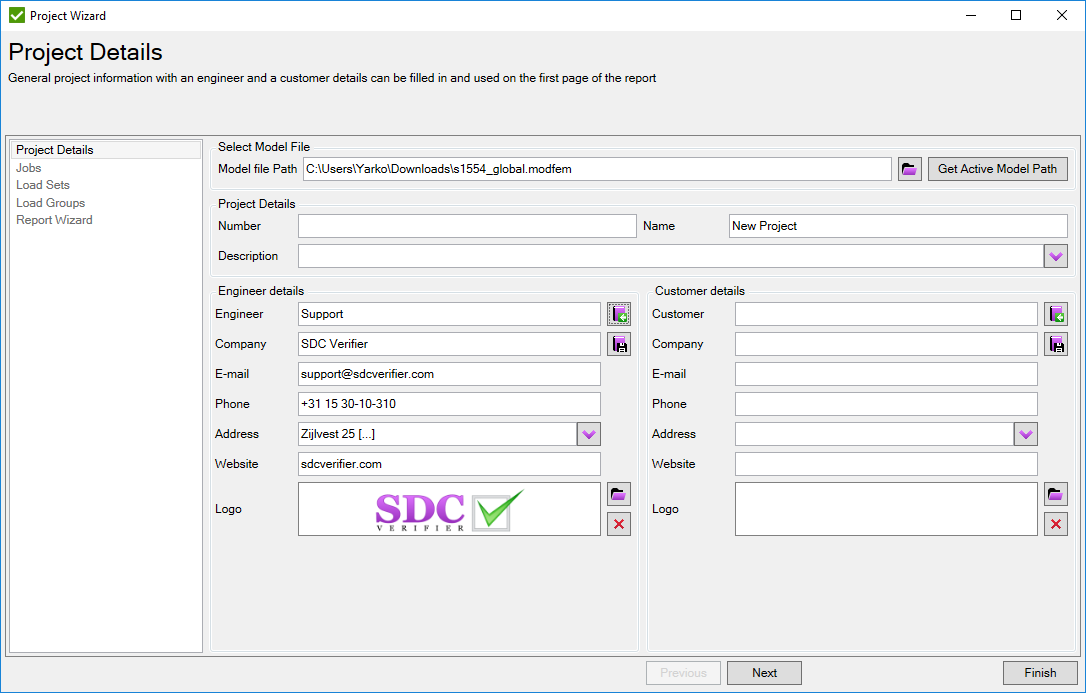 DNV weld strength split on 2 standards - C101 and C201;
Job of Jobs - possibility to create load combinations/envelopes using results from different Analysis;
Mapped Sections - select a shape from the library and link to existing property (should be used when shape dimensions are not defined in the model but required for the standard);
Improved performance for huge amount of loads (10K+);
Load Selector - a content of load group option. It is possible to build flow tables on the Load Group items: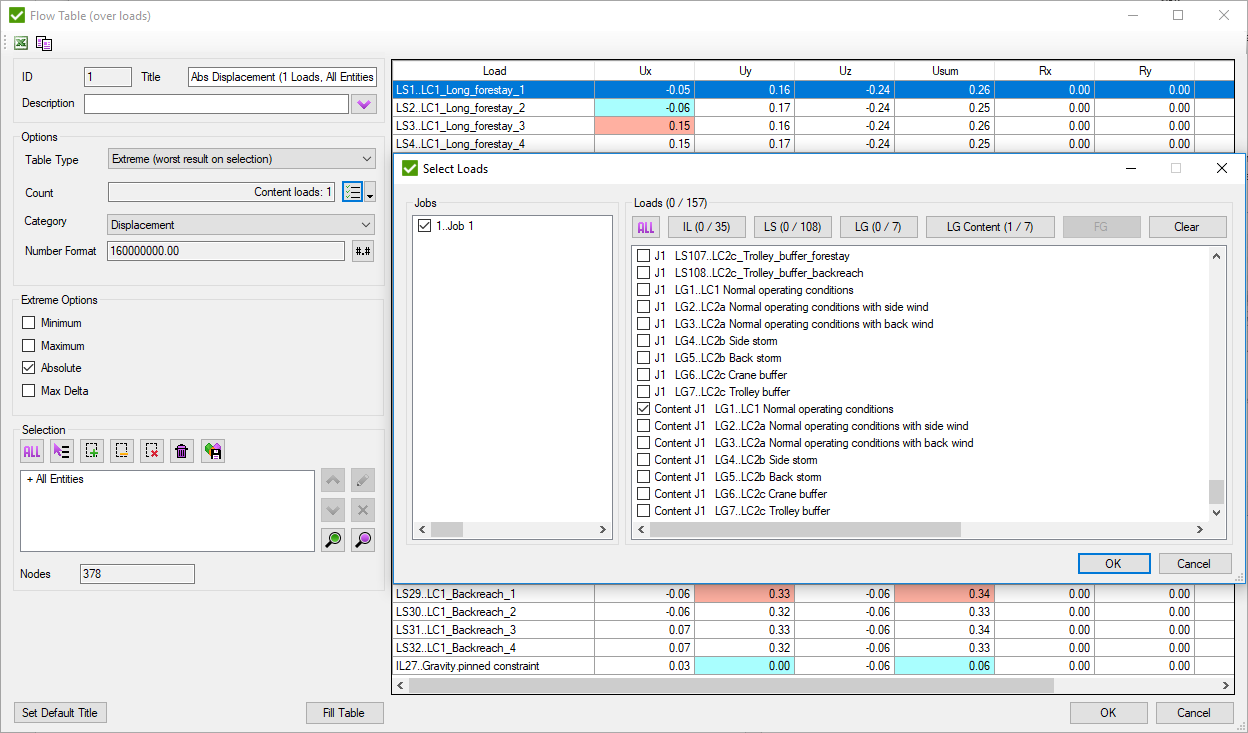 AISC2010 - automatically fill stiffener distance, option for torsional check, for shape checks intersection with user selection;
Beam Member Finder - edit duplicate members. Export members to components:

Display Unit System - user can use different unit system for calculations and displaying tables/plots. (Simcenter, Ansys):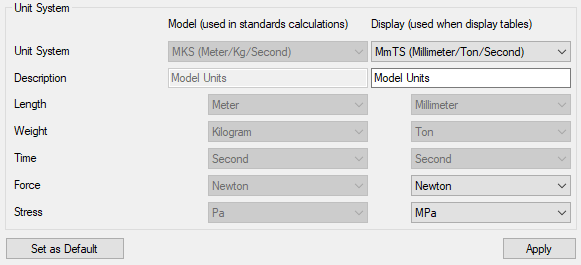 Report improvements:

Selection highlight feature for tables

User title and automatic title - when user title is blank an automatic title is used:

SDC Verifier 5.0.1
Improvements:
Report Layout: Multiple rows for footer and header;
Mass overview on selection;
Weld Finder additional filter options;
Show min/max for groups in flow and summation tables;
Add selection in thickness plot tool.
Bug fixes:
Beam elements were not shown on plots when connected to plates;
Direction of wind and snow load;
Recognition of beam-plate joints;
Export tables to excel – forbidden symbols or more than 25 characters;
Add nodes manually in Joint Finder;
Wrong values on thickness plot;
Custom Logo issue in report layout header/footer;
Fill tables in report wizard issue;
Editing drag coefficients;
Generate properties in report as tapered;
Beams was not included in Fatigue Summation plots;
Peak Zone plot was not shown, only labels;
SDC Verifier 5.0
New Features:
Support for Ansys v18.2 and v19;
Support for Simcenter v12;
DNV OS C101/C201 (welded connections) is implemented;
Improvements for AISC360-10: bending and combined checks are added for Channels, torsional check implemented, calculate Cb based on moment diagram or use manual input, take into account second order effect (B1 values, Appendix 8);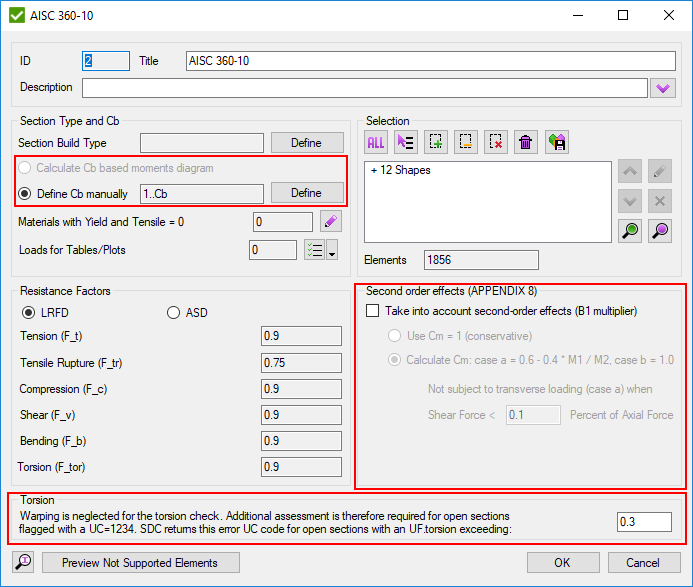 Weld Finder – automatic recognition of weld length, welded/nonwelded parts, user input for weld characteristics (type, throat thickness, angle, etc.). Elements that are connected to weld with one node are added to weld;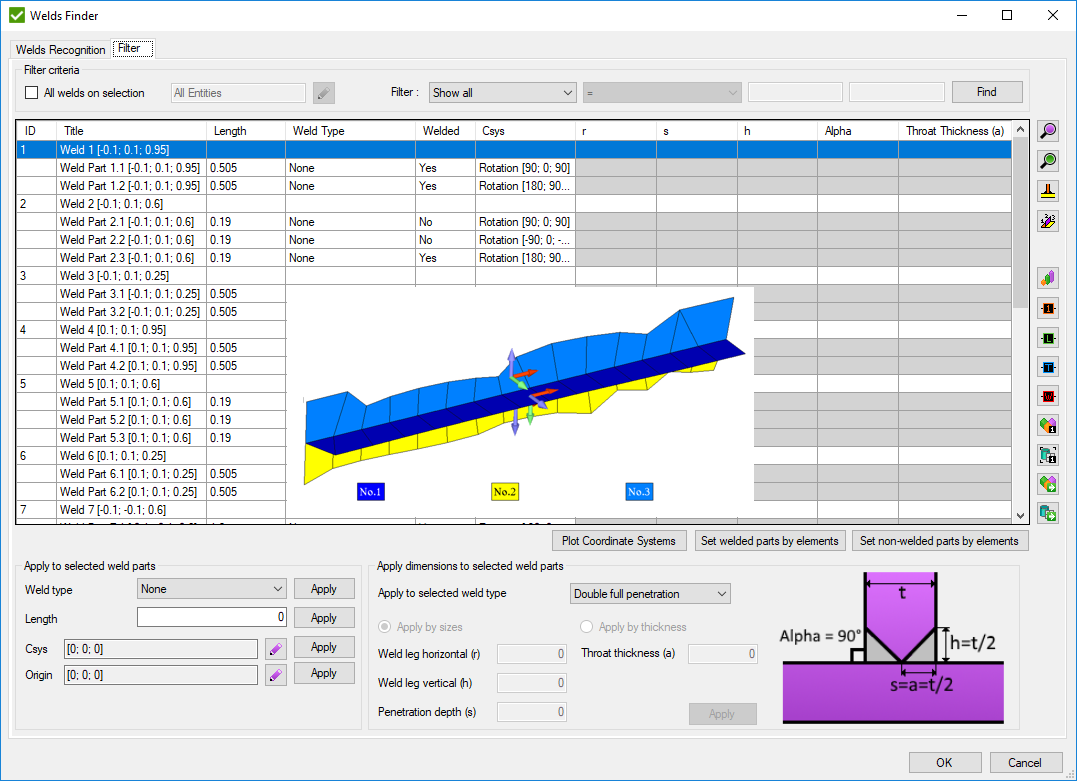 Weld Summation Tool – the sum of forces and moments over welds;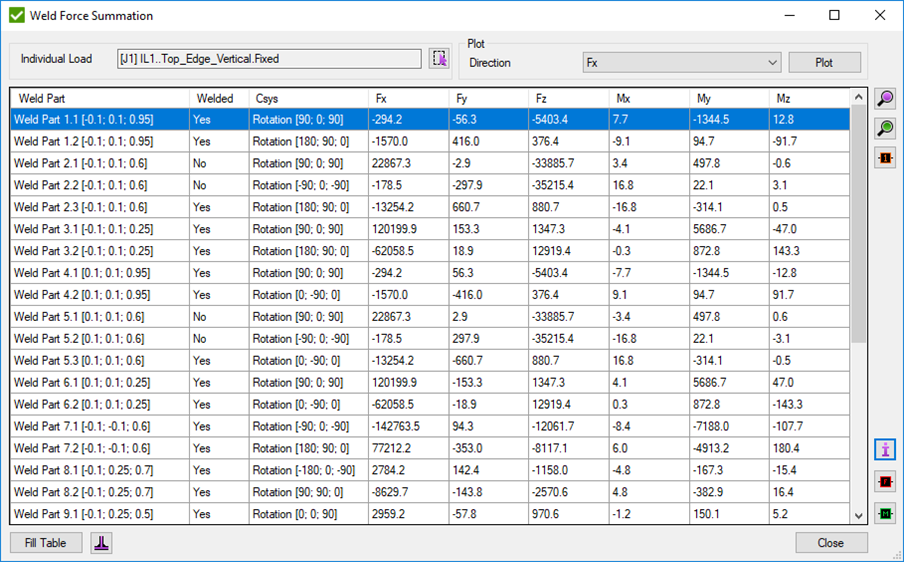 Moment Ratio Tool – calculation of Cb factor according to AISC360-10;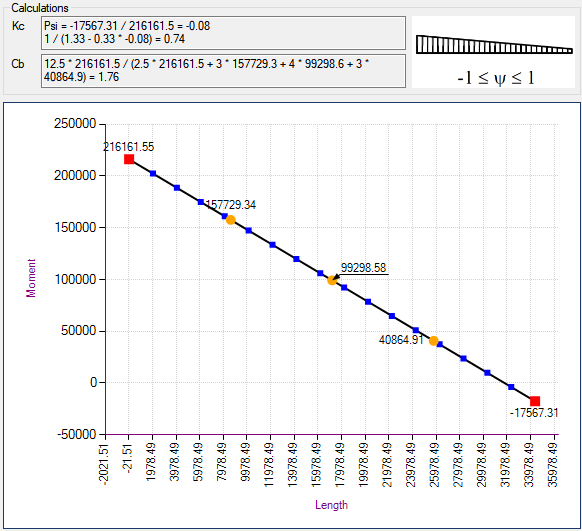 Panel Finder – automatic recognition of all section types (including custom), length/width filter over plates;
Display governing loads in plate buckling tables for buckling factor;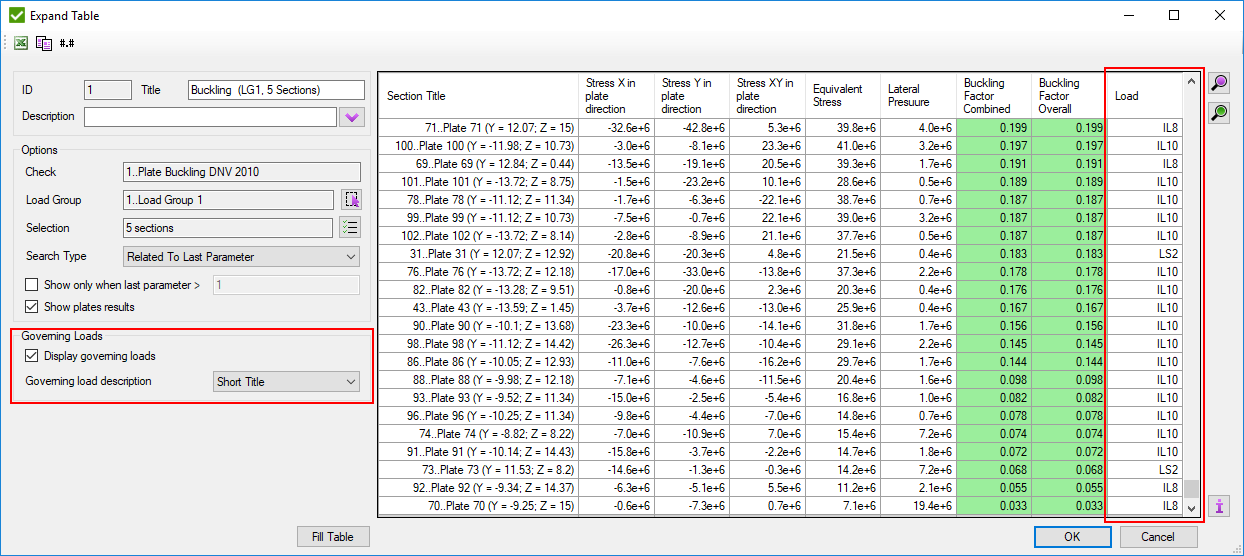 Plate Inspector tool for Plate Buckling Check – displays detailed (elemental) results for selected plates;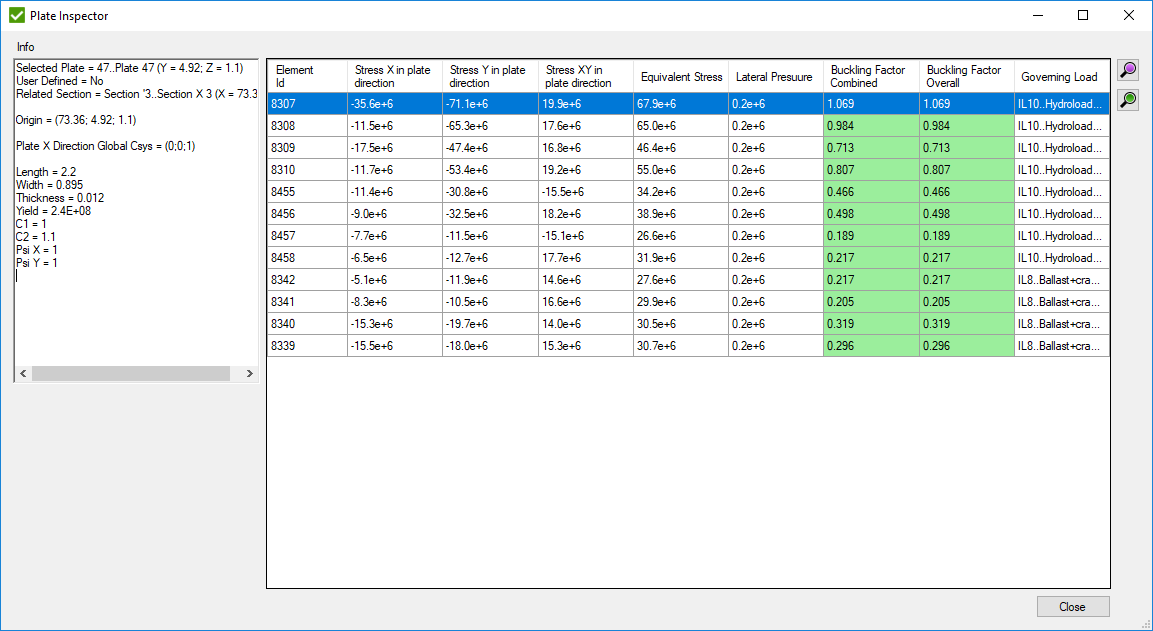 Report Layout templates – configuration of first page layout, header and footers, margins and fonts, user-defined fields;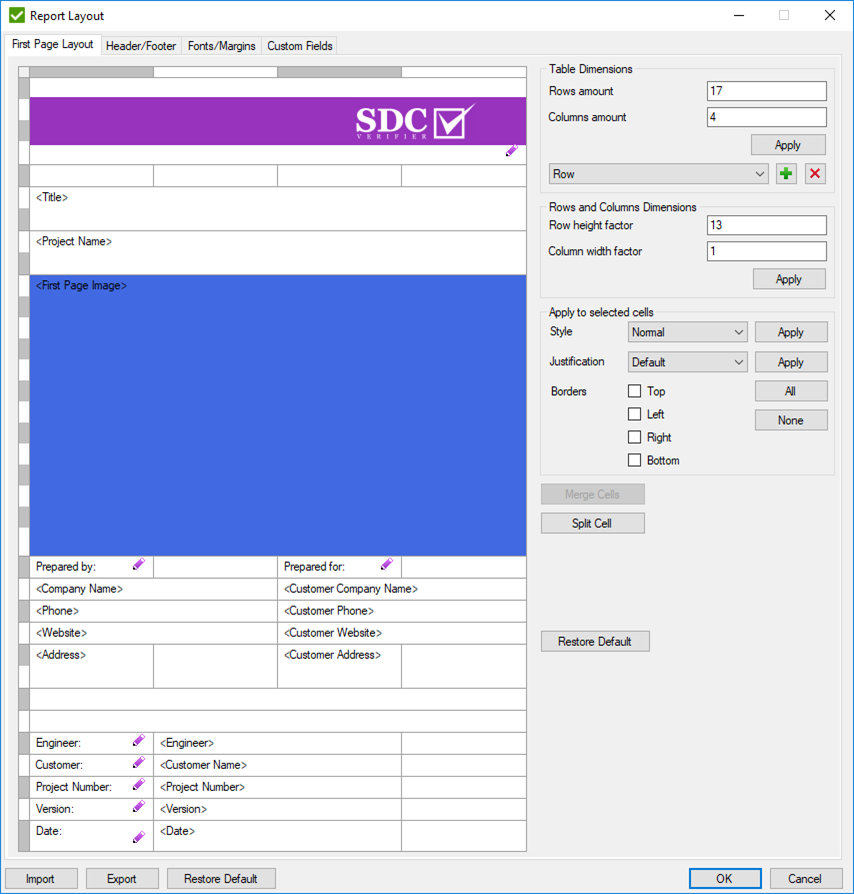 Performance of governing Loads and Peak Finder tools are improved significantly;
Tables improvements: change load, table type (extreme/expand), category on table form;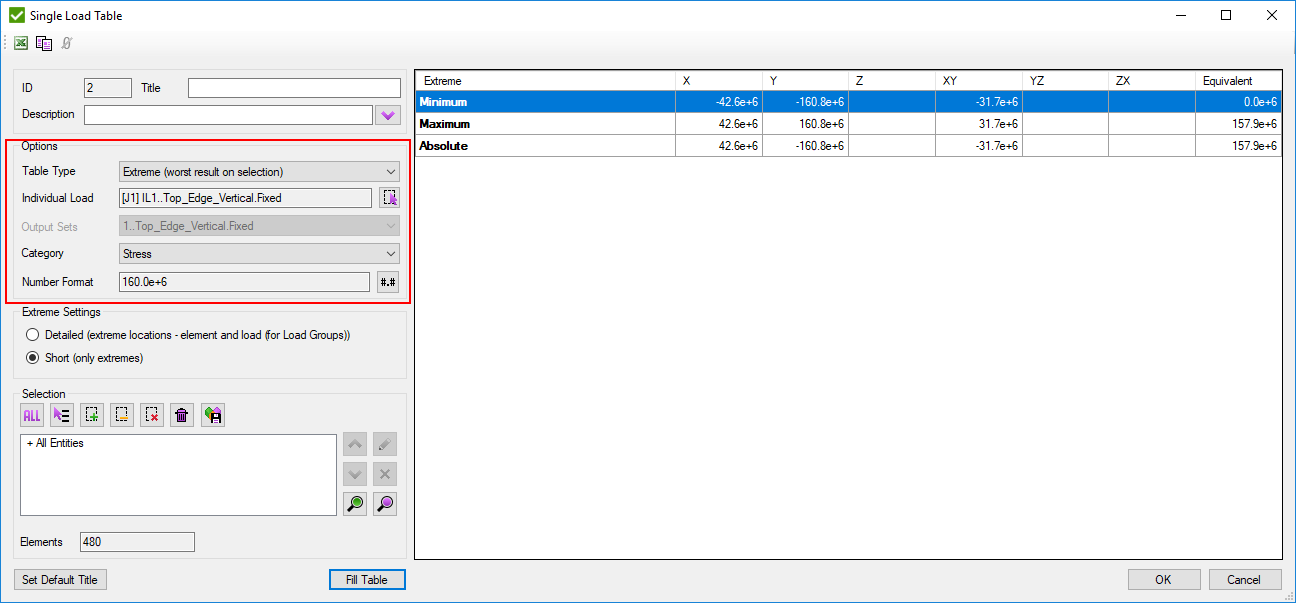 Option to configure table borders and turn on/off min/max highlight;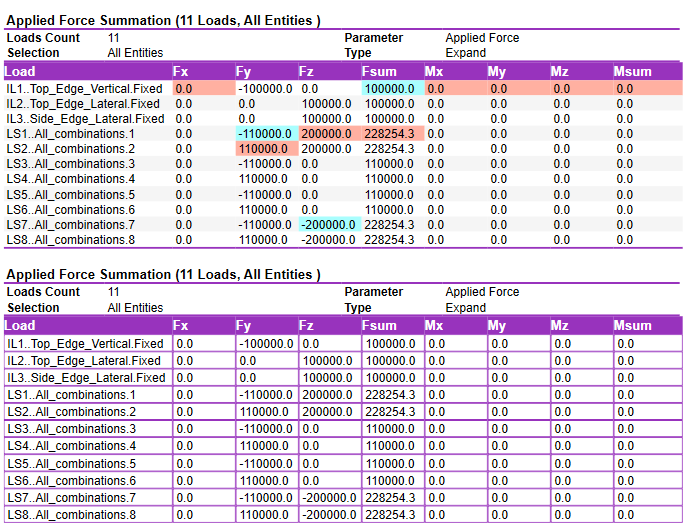 Option min/max/abs available for all extreme tables;
Force Summation Tables over loads and over selections;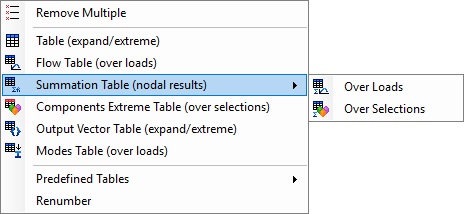 Warping and torsional constants are calculated by SDC for AISC360 and Eurocode3 standards (not read from CAE program);
Option in Job: read stress/strain results corner or centroid results (for Femap and Simcenter);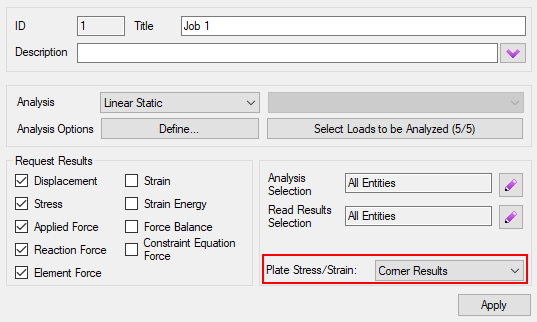 Apply selection to few selected checks in standards;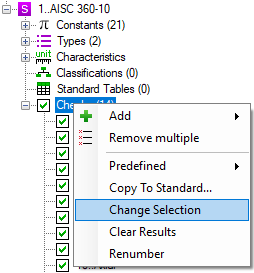 Colored material plot with labels;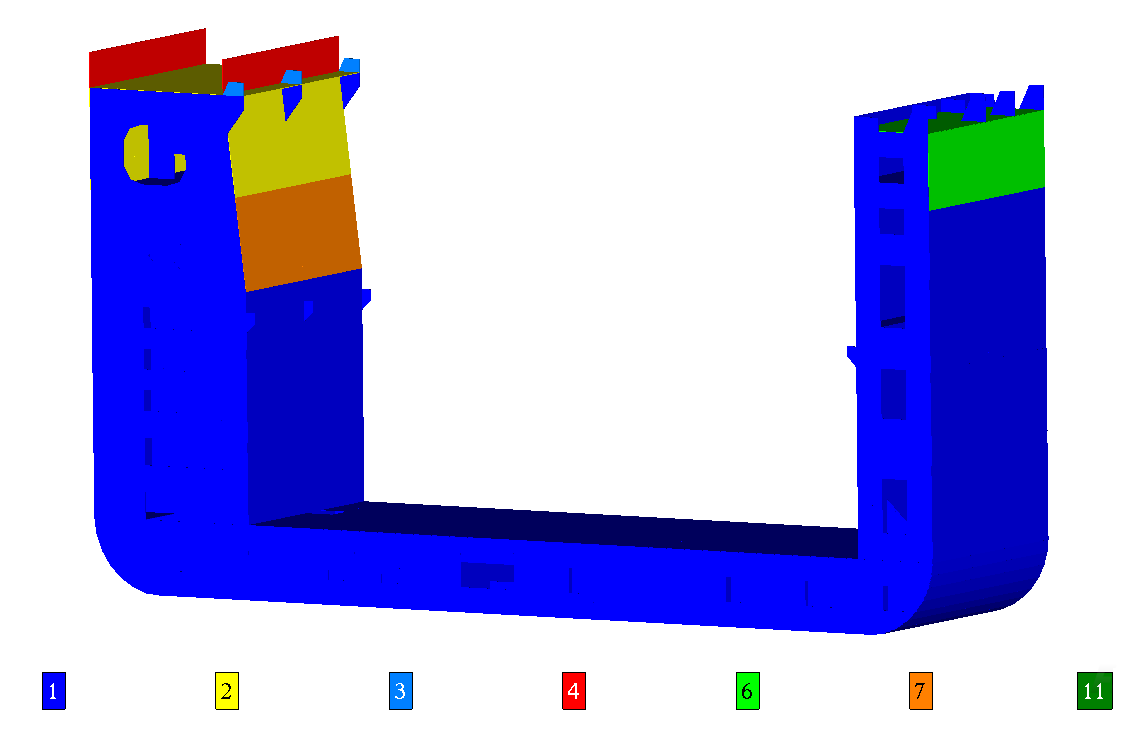 Colored plot of plate thicknesses;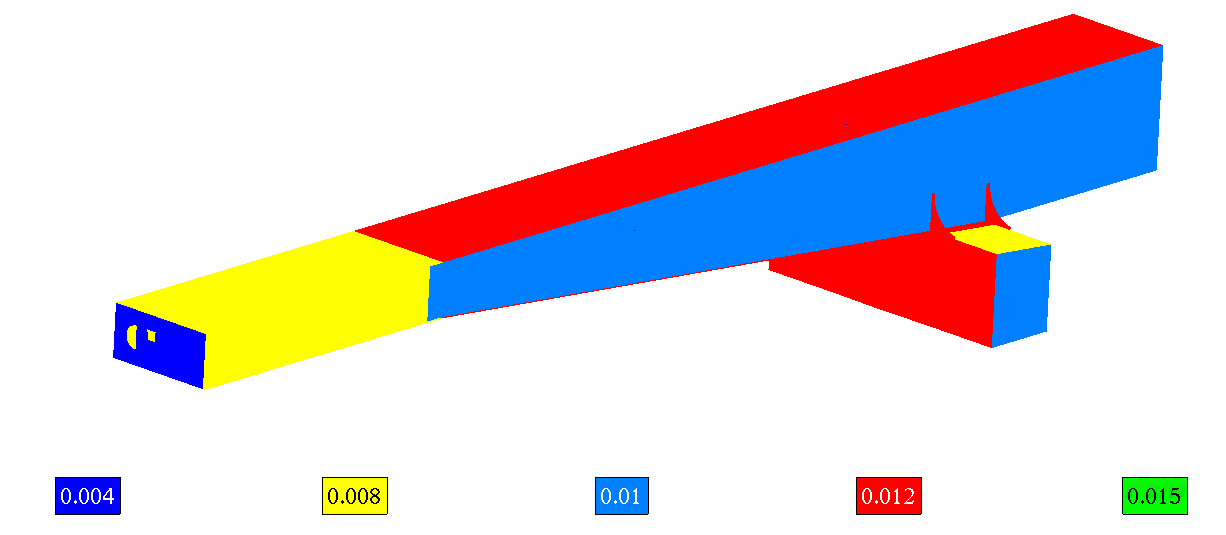 Export results tool – export by loads, export by checks, include point results;
New rule for selector - stiffener: find beams attached with 2 nodes to plate edge;
Add multiple views for property plots in the report;
By default results are stored in SDC scratch folder (before were stored in the project folder);
License Manager – proxy settings on license manager form, select CAE program in license request;
Bug fixes:
Issue with joint recognition on a model with rods elements;
Proxy credentials were not stored to setting file;
Results for governing loads were cleared after table closed;
Issue with joint recognition with plates connected under 45 degrees;
All solid elements in coincident nodes tool were treated as coincident;
Wrong plate is shown on preview in plate buckling table;
Empty list for table style in the report;
View was not applied in the report for classification plots;
User modified buckling plates were not stored as user-defined in project file;
Copy and paste issue in panel finder;
Panel Finder stuck from the context menu;
Issues with memory management for load sets;
SDC Verifier 4.6.1
New Features:
Governing Loads for Plate Buckling Checks: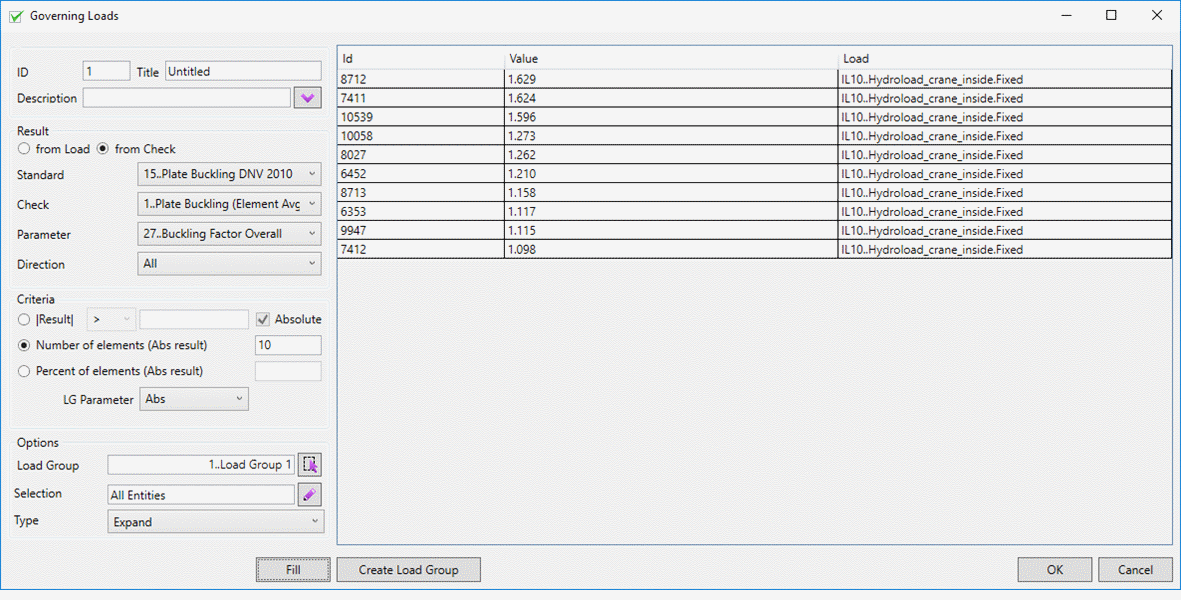 Memory management algorithm is improved;
Expand Flow Table for Joint Check is added. Results on Load Group;
Extra Backup options: daily and hourly backups: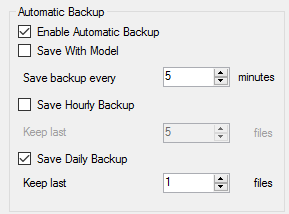 Elements that are not checked against standards are shown in report: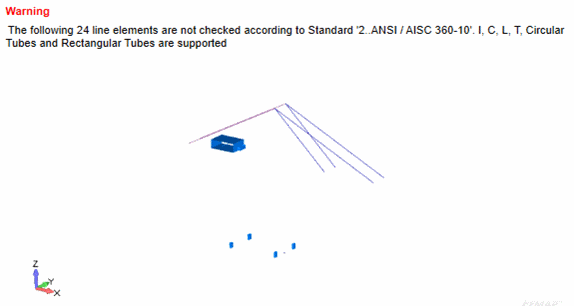 Safety factors overview in report under standard (only when Sf is used in formulas):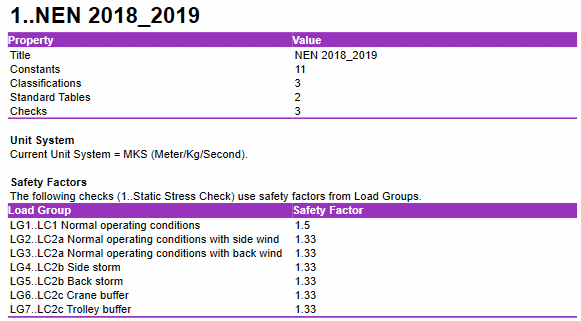 Option in preferences: Read stresses from corners or Top and Bottom values:

Sort / Copy features for tables/plots in report under checks are improved.
Bug fixes:
Loading time is decreased for Beam Member Finder;
Editing Joint issue where one element belongs to 2 joints;
Multinodal forces issues with titles;
Clear check results crash issue;
Cross section dimensions are cut;
Failed to read results from files if model was changed;
Failed to calculate Midplane stresses when rigid elements present in model;
Data conversion and limits were not stored for fatigue plots;
Weld Finder selection was not taken into account for weld tips recognition;
Selection for Eurocode3 standard always was set to All, user selection was ignored;
Results for variables Sweld.X, Sweld.Y, …, Sweld.eqv always was taken from X direction;
When member break options was changed it was not set as modified;
Unable to run analysis when model contains plot only elements;
SDC Verifier 4.6
Performance:
Recognition of joints and beam members is improved significantly. (slow opening of beam member finder form issue is resolved)
Check calculation for the huge amount of load cases is improved.
Support of Autodesk NEi Nastran Solver - an update reading results for bar/beam elements:

Eurocode3:

An option which method for Lateral Torsional Buckling to use:

The C1 coefficient is calculated according to the Designers' guide to Eurocode3: Design of steel buildings 2nd edition:

Joint Check improvements:

Recognition of 2D and 3D plate joints:

New colored plot with legend out of labels:

Arrows with beam element axes for joints:
Beam Member Finder:

Set Effective Length Factor K = 0.01 for the members that are fixed by plates (in the recognition direction):

Updated plot for the selected members, rest model is shown in gray color:

Break members using Plate 2D and 3D joints:

Unit System: Meter/Ton/Second, Millimeter/Ton/Second and Millimeter/Kg/Millisecond systems are added. The custom unit system can use grams, centimeters, and decimeters:

Classification: adding multiple conditions (over directions) at once:

Settings (Legend, Number format, Unit System) can be set as default and stored to file. When a new project is created default settings are loaded from the file:

Project Analyzer: a report generation is added
Classification: adding multiple conditions (over directions) at once:

Custom Checks: New predefined formulas ShapeT and ShapeL:

Presentation Designer: new sorting options, add multiple plots/table.
Load Group - a single form to create and edit multiple load groups:

Plots: preview with current view, current view and selection (active view settings and visible elements are used for plot).
SDC Verifier 4.5
Eurocode3 - Cross Section and Buckling Resistance. Cross section class is calculated automatically based on loads: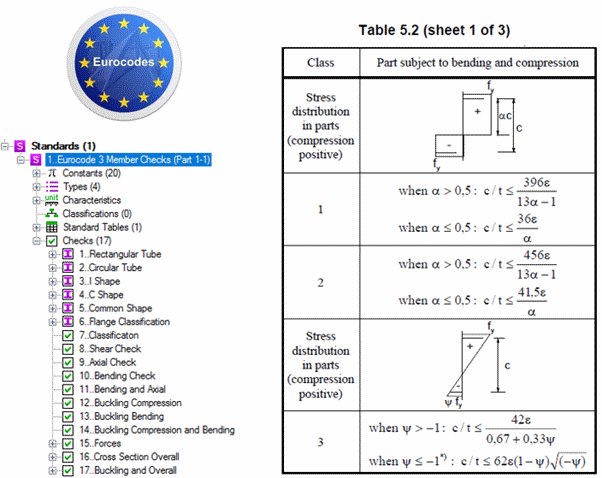 Governing Loads Tool - finds critical loads out of a large group of load combinations:

Peak Finder Tool - displays peaks using special plot with an overview in a table:

Presentation Designer - generates PowerPoint Presentation in SDC Verifier.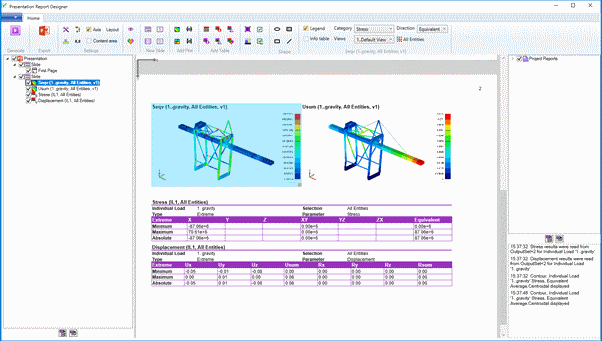 SDC Results are stored on disk. They are grouped in folders by the Jobs and the Loads All results are grouped.

Project Analyzer tool. By default SDC Verifier calculates results when necessary (plot or table requested). To run calculations in non-working hours use Project Analyzer.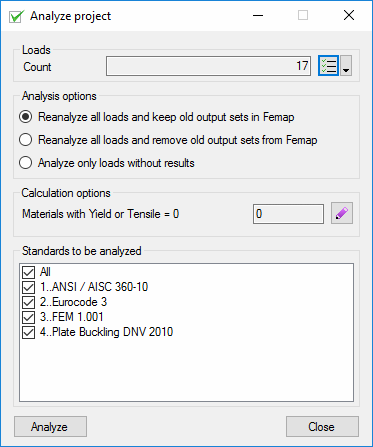 Load Selectors new features: Select Previous or Recent Selection (last 10), Quick selection of all loads of selected type (e.g. Load Sets):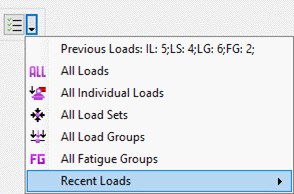 Views - new interface and more options:
Advanced options. New: Custom Levels, Threshold Modes, Vector Scale.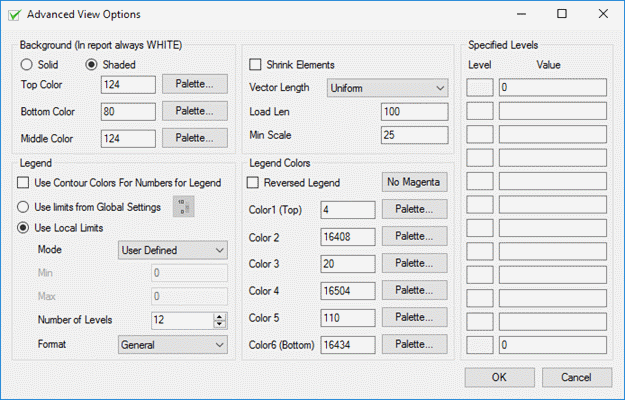 Beam Member Finder - Y, Z and Torsional lengths on single form: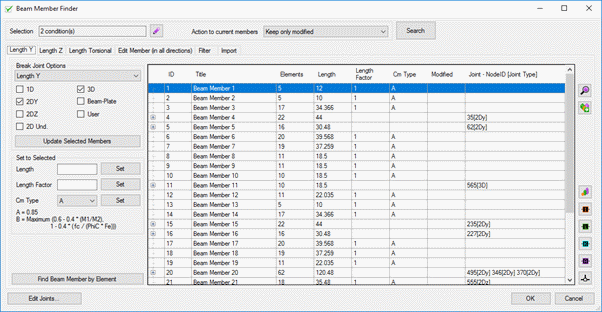 Joint Finder - full control over Joints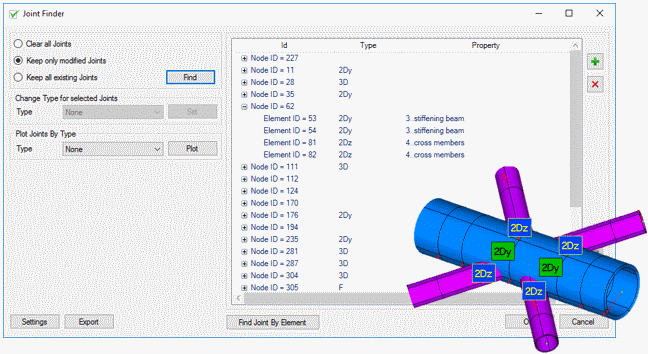 Beam Member Finder -edit single member in 3 directions at once.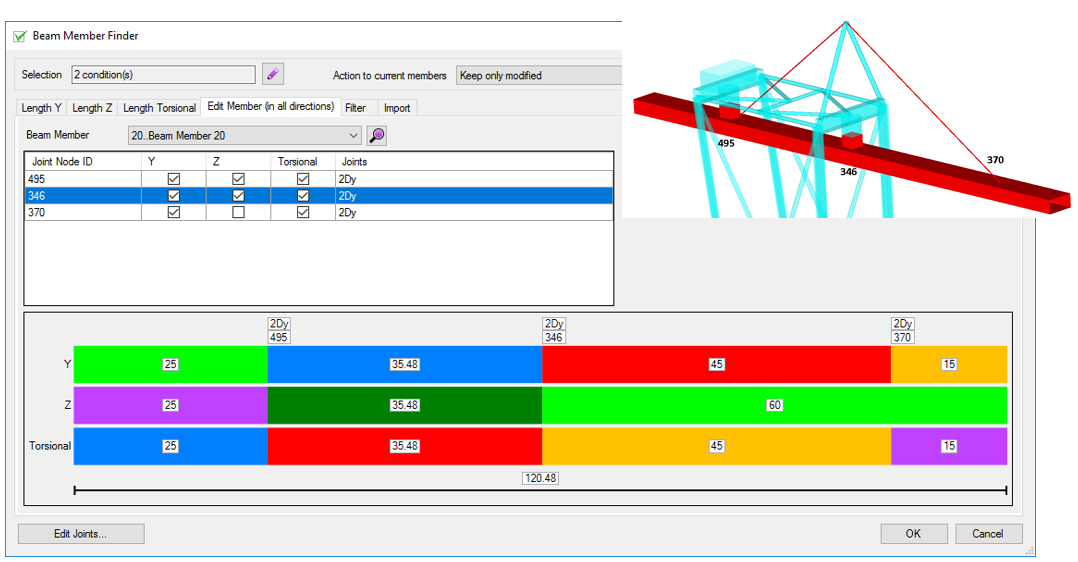 Beam Member Finder Filter: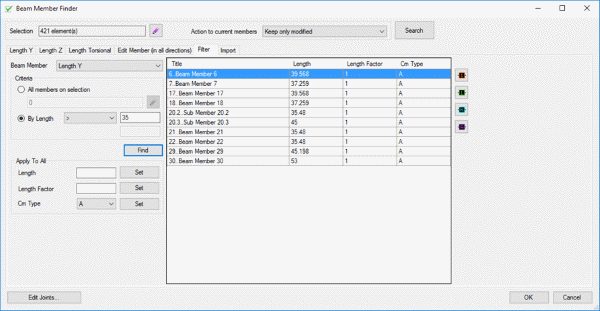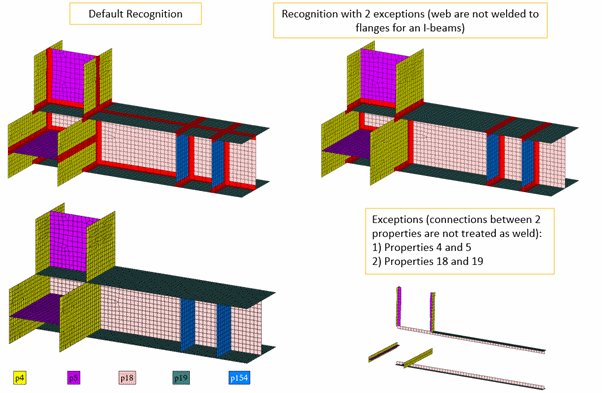 Eurocode3 Fatigue Updated: The Fatigue Check is replaced with Fatigue Damage and Fatigue Stress Overshoots. Fatigue Group and Load Group results are shown in one table:

Predefined Report for Plate Buckling. Select Loads, Views, preferred structure and plate buckling report is ready: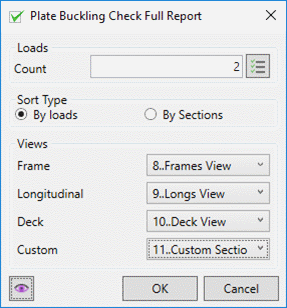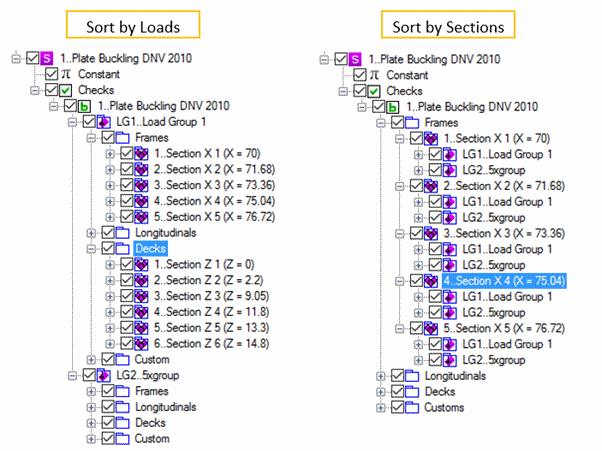 Panel Finder: Find All button - recognize sections and plates in all directions. Custom Section found automatically: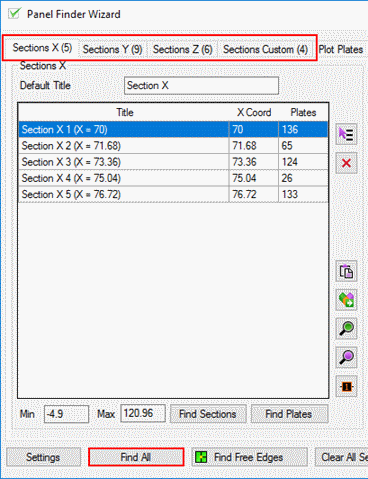 A filter in Plate Buckling Table. See only the plates that have Buckling Factor above the limit. It is possible to display only the plates that fail (BF > 1). The Plates values are sorted in descending order: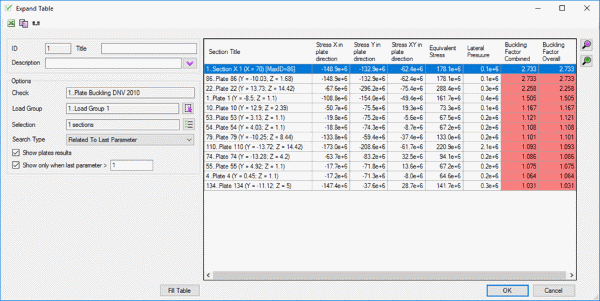 Plate Buckling Expand Flow Table - one section (frame, longitudinal, deck) over few loads: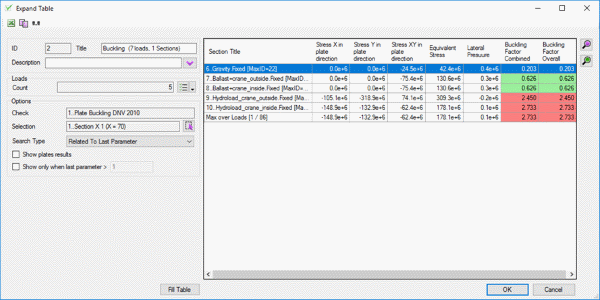 Selection and Load containers in Report. Copy between the selection/load containers and SDC will update the selection/load for plots and tables automatically. New Created tables/plots are automatically added under the corresponded container (automatic sort).

Copy plot/table from one check to another.

Content is inserted automatically in Word

Schedule to generate few reports
Numbers in table aligned to the right

Generation Time in Preface


Replace Load/View/Selection

New rules in Selector: All welds + Welds exceptions + Plate Free Edges, Plates with free edges, Weld tips and Add Visible.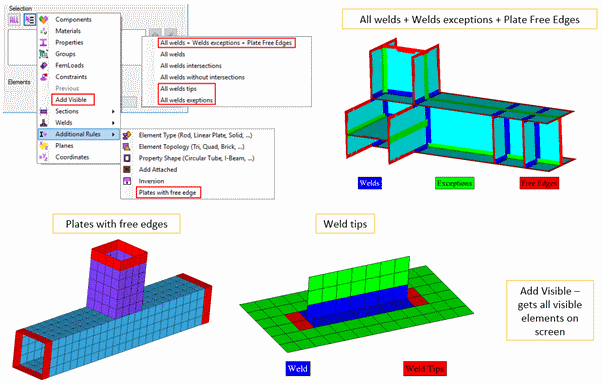 Moment Ratio tool: calculates min/max bending moment for the full member. The kc coefficient is automatically calculated for Eurocode3: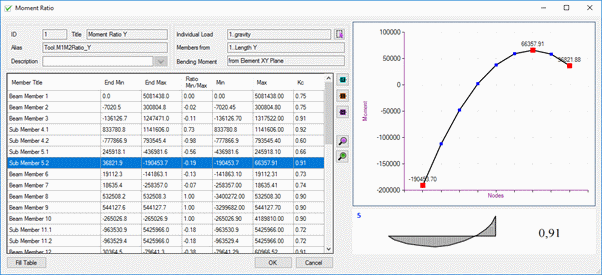 Formula Editor: intelligence - a list of suggested variables, highlight surrounding scopes, tooltips, shortcuts: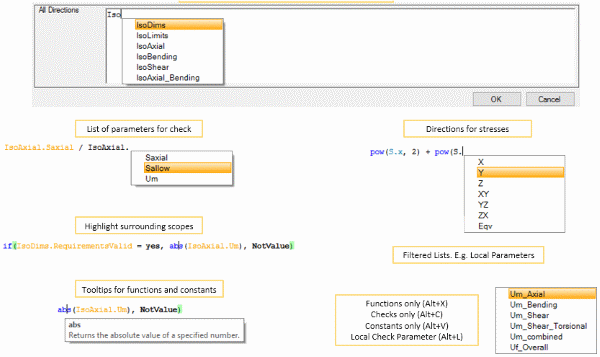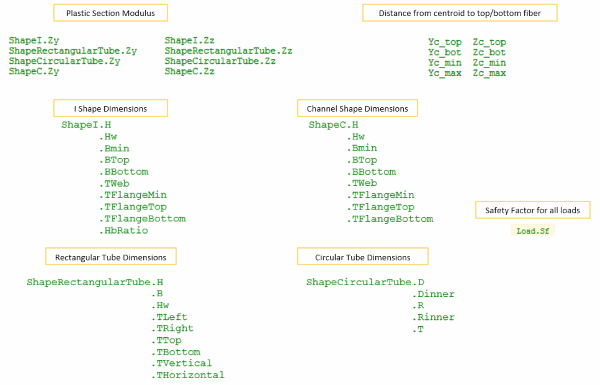 Convert forces into Multiple NodalForces and edit all at once: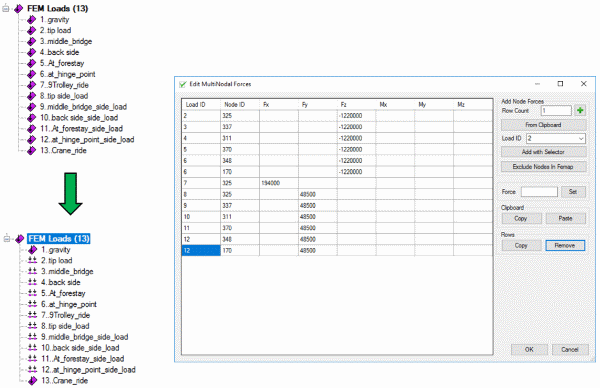 AISC 360-10: evaluate wrapping, neutral offset. Evaluation is not performed automatically. The dialog with the list of properties that will be evaluated is displayed. It is possible to skip evaluation but that will influence on calculations: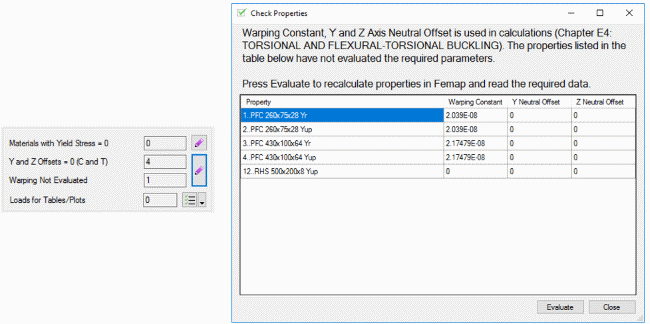 Bar/Beam properties. Shape picture with dimensions. Shape for End B: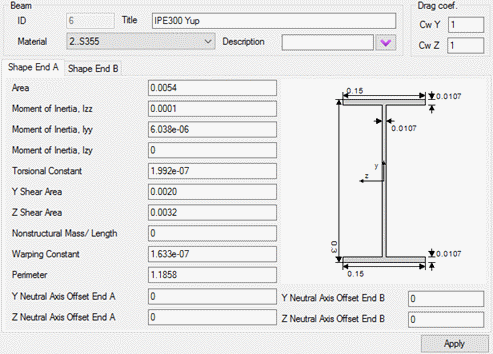 Characteristic-based on type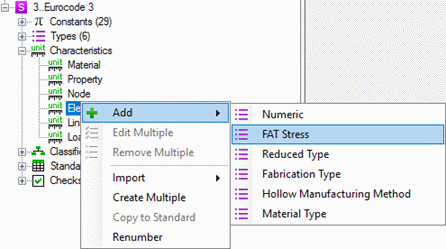 Use maximum instead of minimum for Cm Type (conservative):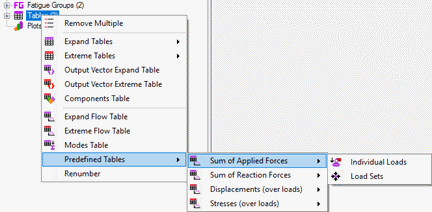 Use Current Project in Open as Template
Contour Plots for beams in Checks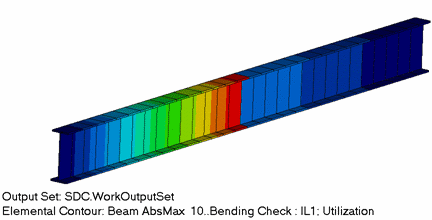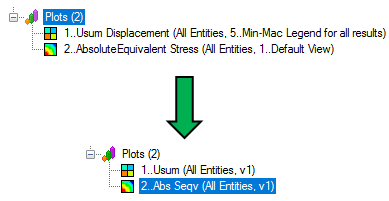 Warning message overall direction is selected but the formula is not defined
Safety Factor for Individual Loads and Load Sets

SDC Verifier 4.0
Support of Femap v11.3;
Parallel calculations for Load Sets and Load Groups;
Selection and Load Sorting Containers for checks in report designer;
Copy structure from one load to multiple loads in report designer;
Resolved issue with swapped moments when Ansys solver is used (AISC 360-10).
Buckling of stiffened plates according to DNV-RP-C201 2010 chapter 7;
Strength and stability of tubular members according to ISO 19902 (first edition, December 2007);
Strength and stability of tubular members according to Norsok N004 (rev.3, February 2013);

Stiffened Panel Finder - recognizes automatically sections, panels, plates, stiffeners and girders and their dimensions. This tool is an advanced version of Panel Finder;
Joint Check according to ISO 19902: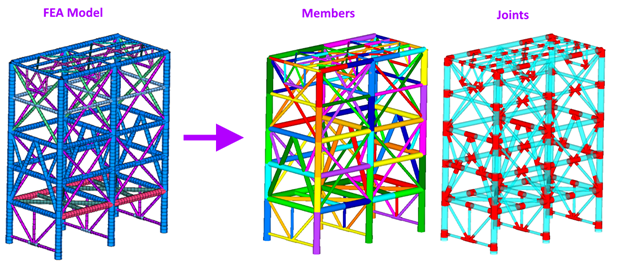 Weld Stresses and Global Plate Stresses- automatic conversion of results. All tables/plots for stresses can be created for weld and global plate stresses categories: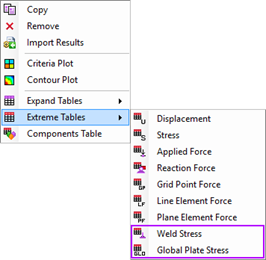 Moment Ratio tool - calculates ratio of moments on the end of beam members. It is used to calculate reduction factors in the following standards: API RP 2A, ISO 19902 and Norsok N004
Effective Width Tool - calculate plate effective width for every load situation. Effective width is used in stiffener buckling check according to DNV-RP-C201 2010:
Unit System - is used for conversion units in calculations for the following standards: API RP 2A, DIN15018, FEM 1.001, Eurocode3, Norsok N004 and ISO 19902:

Stiffener Buckling Check - special check to perform calculations and present results for stiffeners. Additional variables can be used in formulas: stiffener dimensions, stiffener related plates dimensions, stiffener results and related plates results converted into stiffener direction;
Beam Member Finders have fixed structure - 3 items are created automatically: length y, length z and length torsional. Data from beam member finders can be used directly in checks, import to characteristics is not required anymore:

Thickness Plot tool - interface is updated: selection can be defined directly from Panel Finder or Groups, font size option is added, it is possible to plot 4 types of labels (thickness, id, id and title, id title and thickness). In addition thickness plots can be added into report:

Multinodal Force - it is possible to create few loads at once. E. g. two loads with 4 nodes each:

Panel Finder - the following features were added: Add/Edit Plate, Combine Plates, Edit Plate thickness, Import/Export
Classification is simplified - classification over points is removed. Plots for classification are improved with colored labels: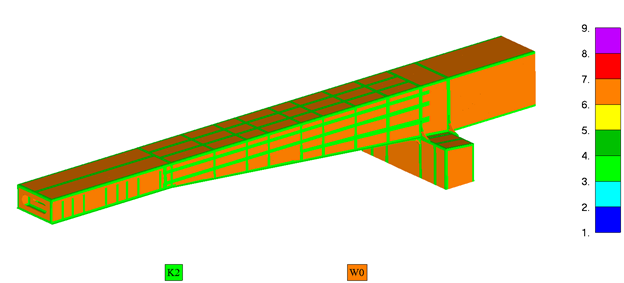 In Selector 4 new rules were implemented: all welds, all welds intersections, all welds without intersections and previous (last selected items in Femap):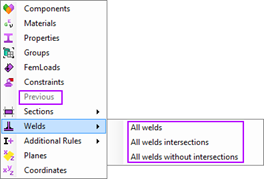 Single Weld Finder tool in project - it's not possible to add few. The tool is used for conversion stresses into weld direction. Update Element direction button is removed because fatigue standards use converted stresses in the formulas:

Settings are split on 2 sections Legend Settings and Number Formats: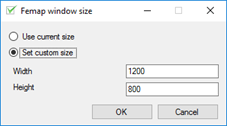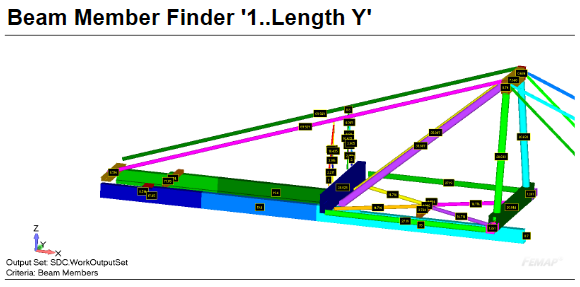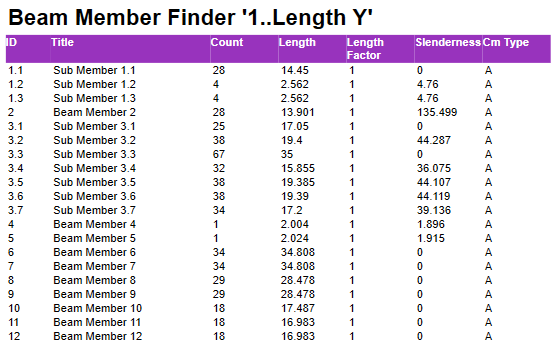 Plate Buckling (no load) check - same as plate buckling check but not required load for calculations.
Report Improvements:

It is possible to set fixed window size for Femap Graphic window. Option can be set in Preferences or from Report Designer toolbar:

It is possible to define custom border color:

Material Table item - all Materials in one table:

Mass Properties item - all mass properties in one table

Beam Member Finder Plots on selection with possibility to change view:

Beam Member Finder Tables:

Import possibilities for all libraries: standards, wind profiles, customers and engineers and category settings. It is possible to get library file from colleague and import desired items into your library file;
Global Constants in preferences for Gravity and Density. They are used as default values for tank and buoyancy loads:

New option in Export Results to Femap -Export results by type: checks per load (all check results for separate load as separate output set) or loads per check (all results for loads for separate check as output set)
Warning if yield stress is equal or higher than tensile strength when edit materials;
Fixed Bugs
Clear Plate Buckling Results only when changes in Panel Finder were done;
Don't switch model in Femap when backup is performed;
Step property in Moment Shear tool was not read;
Qa reduction factor was calculated for non-slender elements for I and C shapes in AISC standard. It is set to 1 for non-slender elements;
Black background for logo with transparent background in report for *.png files;
Property Check failed to save to standard library;
Units for tank load in report are removed;
Replacement option was stored to standard library;
Modes table failed to open when loads does not contain results;
Draw axis for shapes;
Export Tool - export nodal results failed;
LG parameter in check expand table was set to minimum when press cancel.
SDC Verifier 3.8.5
Nonlinear results location in Femap 11.2 was changed. Reading results function is updated to read nonlinear results from a new location.
Eurocode3 update: if stress history has only one Load Group - Utilization Factor is calculated, for few Load Groups fatigue damage is also calculated;
Predefined checks: static stress check, average stresses, plate principal stresses, solid principal stresses;
Job contain 2 selections: first - for analysis in Femap, second - read results in SDC Verifier;
Edit Multiple Load Sets/Load Groups - interface is improved, a possibility to paste names of loads;
Contour plots for beams;
Contour Output Vector plot - display contour plot for custom output vector;
Stop generation of table or plot immediately;
Copy checks between standards;
Update for Free Edge tool - recognize also coincident nodes, combine free edges in groups of elements;
Output Vector Selector in expand/extreme tables is updated - it is possible to store selections to library;
Fixed Bugs
Sorting feature in report for plots and tables: by Load, by Parameter, by Selection/Section;
Copy structure (all items) from one check to another in report;
A tool that resolves an issue with connection to Femap. (Tools - Register Femap in System);
Requested results in Job for Custom analysis was set to default after report generation;
Customer in properties was not saved to file;
Preview functions always showed elements with thickness;
Automatic plot after applying buoyancy and tank load is removed;
Using filter in selection list instead of one item two were selected;
Edit Fatigue Summation check when after calculation was not possible;
Open as template in embed mode use wrong model file;
Load Selector crashed if Job contains 0 loads;
Orientation of Mode Table is changed: in columns modes and in rows - loads;
Rename parameter in check converted dependent formulas into lower case;
Move parameters in check cause shift in report plots when saving project;
Standard table description was not saved.
SDC Verifier 3.8
Fatigue check according to Eurocode 3: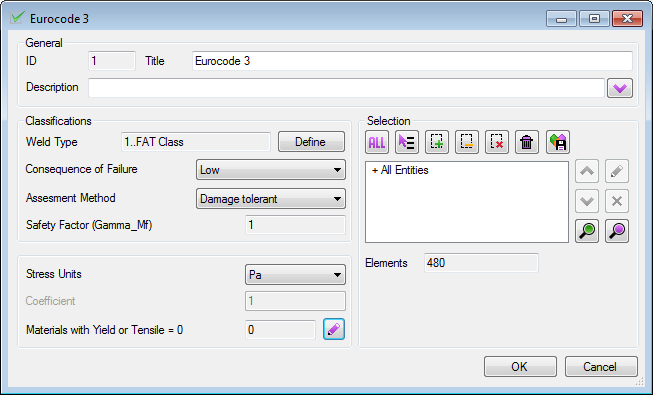 Calculation Core is completely updated to improve memory management. A lot of data is calculated dynamically and it allows to use less memory (plates 44%, and solids - 36%);
New Checks with high performance and low memory usage: Property Check and Custom Check (no load):

Tank and Buoyancy Loads are updated: performance, interface, and possibility to define faces pressure are applied: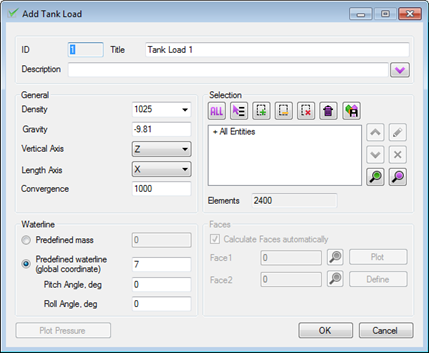 ANSI/AISC 360-10 - standard performance and memory usage is improved (new check types are used);
API RP-2A unit system is added (Pa, MPa, psi, ksi);
Panel Finder - plate width > length limitation is removed. Join Plates features are added. When research is run it is possible to keep user plates (joined plates or plates with updated parameters);
Joint check: maximum chord curvature angle option, calculate all braces as TY option;
Thickness Plot - displays plate thickness using a label. The tool automatically groups elements with same property: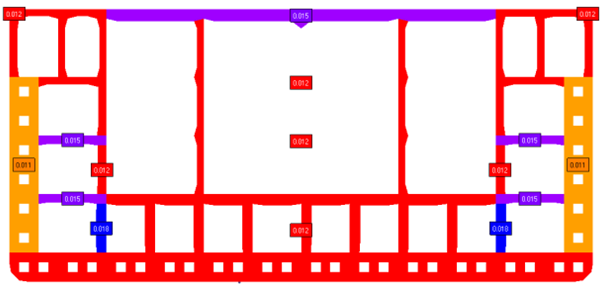 Characteristic Plot in report with selection and labels;
Move option in classification;
New type of characteristics - load characteristic;
Fatigue Groups - set of Load Groups with defined number of cycles. Used to calculate fatigue according to Eurocode3'
Fatigue Summation Check - custom check with possibility to calculate summation of fatigue damage;
Improved switching between Embed and Standalone Mode - now;
Select sections in expand plate buckling table;
Interface and selection logic I Multiple Load Selector is updated;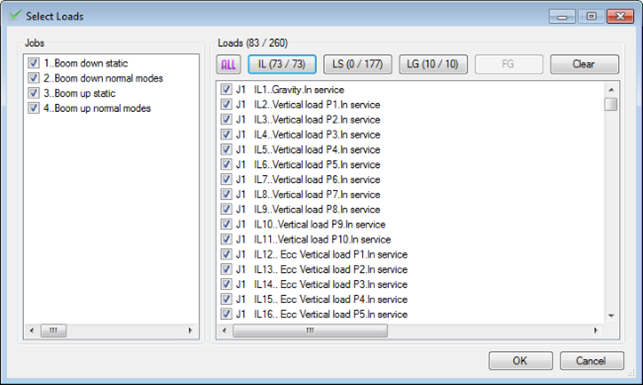 Summation over nodes in Expand Flow Table for Load Groups updated: now results are summed for Individual Loads/Load Sets and then Absolute Maximum is calculated. Load Group displays absolute maximum force among its items;
Message Window in report designer;
Fixing Bugs
Read Solid Stresses for selection (part of the model);
Yield and Tensile stress were cleared if materials are renamed;
Message "Deformation Vector does not exist" after plotting;
Failed to read line elements force results when Warping Torque is missing (Ansys solver was used to analyze the model);
Run Analysis in Femap 11.2;
Issue with floating license when open project by clicking on project file;
Warning about slenderness = 0 if more than 1 property is used in beam member;
Copy to clipboard using shortcut in Multiple Edit Load Sets/Load Groups;
Break option 1D Joint was not stored to project file;
Remove non-existing sections in plate buckling tables;
Edit multiple joints - set 1D and Free type was not possible;
Sending license request and errors;
After editing constant it was not displayed in report;
Clear Output Sets in Individual Loads when using Update function;
Turn off property Ids when display criteria/contour plot;
Consume a lot of memory for results when high ID numbers are used (e.g 9 000 000).
SDC Verifier 3.7.5
Network Floating License - fixed number of users can connect to the license server simultaneously.
Usage of licenses can be checked in a web browser (floating.sdcverifier.com/Company/Company Name):

If a license is not available, license status with the list of connected computers is visible in the right bottom corner. It is possible to see when license becomes available and connect.

Fatigue according to F.E.M 1.001 standard;
Joint Check:

List of connections that do not match conditions are recommended to be checked manually;
Set load transfer and can length manually for connections that include can;

Memory Management is improved;
In Plate Buckling option Use Absolute Shear added (conservative approach);
Updated stress transformation for 4-nodes, not rectangular plates (Diagonal Bisector);

Update plotting function to support Femap 11.2;
Layout of Flow tables and plate buckling tables is updated to fit on page in report;
Unit system is removed form Buoyancy and Tank Load;
Fixed Bugs
Joint Check: Gap calculations, Connections and Can recognition;
Sending License request (added alternate method to send request);
Resolve Conflicts - Fem Loads and Constraints was added in the wrong plate (always in the end).
Sum of Forces tables was skipped in report;
Update sections in plate buckling tables when sections are removed;
Edit multiple plots in report wizard.
SDC Verifier 3.7
AISC 360:


torsional and flexural-torsional buckling (Chapter E);
bending (Chapter F) - for double symmetric I-beams, circular and rectangular tubes;
shear (Chapter G);
combined and overall checks;
LRFD and ASD design - both are available;
Examples for 3 chapters: Design Examples of AISC.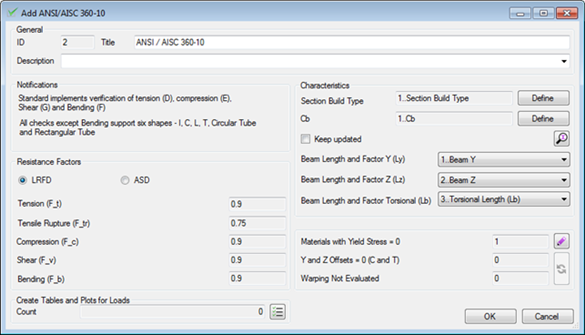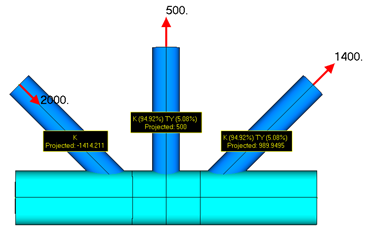 Fixed Bugs
Plate Buckling ABS 2006, DNV95 and 2010 - Element Midplane Stresses(without bending), Use Plate Average Stress options;
Joint Check:

Gap calculations included with nodes offsets;
Section E-3.4 implemented (can recognition on a chord);
Updated calculations of in-plane and out-of-plane bending moments;
Overlapped brace rules included.

Multiload selector is completely updated (to handle huge amount of loads);
Report Designer:

report shortcuts (Ctrl+C, Ctrl+V, Ctrl+E and others);
sort plots and tables in check by loads;
2 items per page;
New text editor;
Improved Loads Content;
Analyze Model together with Generating report;

Creation of Load Sets and Load Groups is speeded up;
Export to components from Weld Finder and Joint Finder;
Update direction in Weld Finder is speeded up, progress added;
Import/Export Plates Length and Width from Excel in Panel Finder.
View issues when generating a report;
Catch errors when report designer cannot be opened;
Critical crash in report;
Undefined dimensions;
Remove members in Beam Member Finder;
Clear results in check when Individual Load based on Output Set is cleared;
Moment shear force - disable for Load Sets and Load Groups; issue with table;
Automatic backup issue, save auto backup when project not saved;
Load wind from library;
Error with Femap Groups - contain not existing ids;
Buoyancy wave height (half height was used instead of full);
GDI+ error with images;
Wrong wind direction when edit wind. Calculate height of complicated shapes issue;
The issue with engineer and customer logo.